Two future Celts are rivals as Holyrood and Lourdes compete for the Glasgow title…
My tribute to Frank McCarron…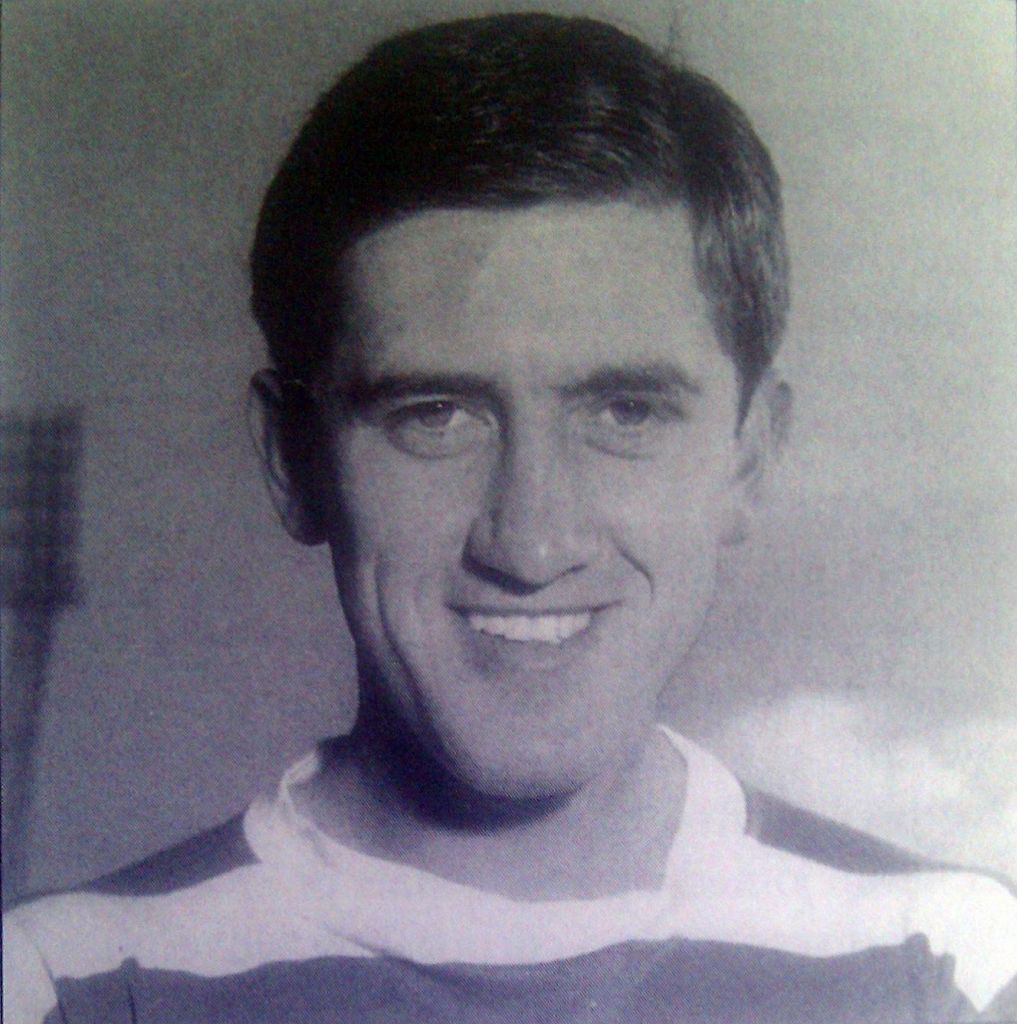 Back with Harry at Holyrood, he would almost certainly have been involved in the Under 18 trials for the Glasgow Schools team, which took place at Nether Pollok on Saturday, 4 November 1961. Jim McCalliog represented Holyrood in the Under 15 trials at the same venue, whilst 11-year-old Danny McGrain of Camus Place played for Glasgow West's under 12s against West Lothian in Blackburn.
Harry would progress to the final trials for Glasgow at the senior age level, played at Lesser Hampden on Monday, 13 November before being selected with Holyrood teammate Tommy Doherty and former Queen's Park colleague Alex Ingram in the following line-up to face the Rest of Scotland at Cathkin at the end of that month.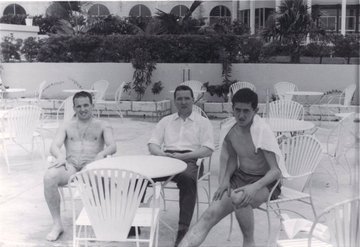 Melville (St Augustine's); Milliken (Hyndland) & Doherty (Holyrood); Wyper (Whitehill), McCarron (Lourdes) & McLellan (Eastwood);
Ingram (Eastwood), Samson (Whitehill), McNulty (Lourdes), Hood (Holyrood) & Kilpatrick (John Neilston Institution).

Reserves: Wishart (Shawlands, Rankin (St Mungo's), Mackay (Shawlands), Neilson (Rutherglen) & Miller (Queen's Park).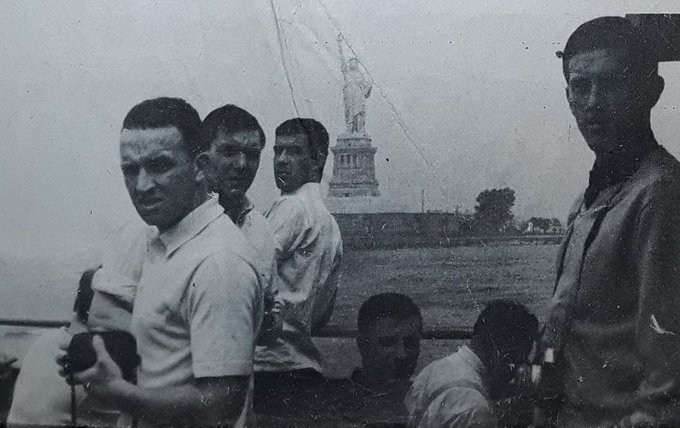 That major step towards Harry's dream of schoolboy international honours was cruelly crushed when the selectors realised that he had signed amateur forms and played for St Roch's earlier that season. On Thursday, 23 Nov 1961, it was announced that an "enforced change" would see Hood of Holyrood replaced by Neilson of Rutherglen Academy for the clash with Rest of Scotland at Cathkin the following Monday. It would be small consolation, if any, to Harry that Glasgow duly lost 4-0 that evening.
Harry would pick himself up, dust himself down and focus on doing well for Holyrood and Brunswick for the rest of the campaign, albeit that contract with St Roch's would have another sting in its tail later that season. Holyrood commenced their League programme in devastating style, an unbeaten run taking them to the top of Division 1D of the Glasgow Schools League, where they would enjoy a season-long tussle with Lourdes for the title.
The goalkeeper was a youngster from Pollokshields by the name of Denis Connaghan, who, of course, would feature again in the Harry Hood story. Sixty years down the line, former Celtic keeper Denis still has fond memories of those times at Holyrood.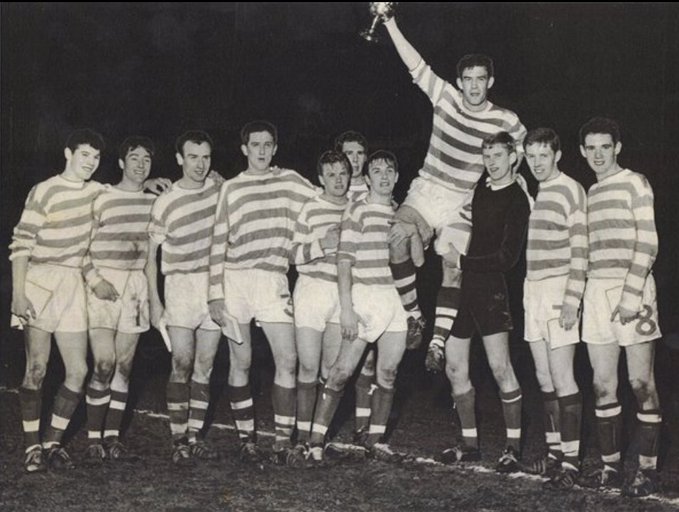 "We had a great side back then. The manager was a chap called John Murphy, who was actually the stadium matchday announcer at Celtic Park. Unusually, he had looked after us each year, whereas normally you got a new coach as you moved through the age levels. My family had moved from Coburg Street in the Gorbals to Pollokshields in 1957, so I had been at Holyrood from the outset, but I remember Harry and John McCafferty only moved across from St Aloysius in fifth year.
"A lot of boys did that at the time, as St Aloysius was a rugby-playing school. You could tell right away that Harry was a player. He stood out like a sore thumb. We got on like a house on fire from the start and I became and remained close friends with Harry and Kathie. We both loved our football. He was very modest. Never boasted. Harry did his talking on the park.
"I remember some of the other boys well. Tommy Doherty at full-back was from Priesthill. He later married Kathie's best pal, Angela Canning. Defender Andy McManus and winger Harry Murphy both went on trial with Bolton Wanderers, and big Conrad La Pointe was a fabulous athlete. He was six foot plus and a 400m runner. He spoke with a broad Glaswegian accent, and I'm not certain but I think his family origins may have been French Canadian.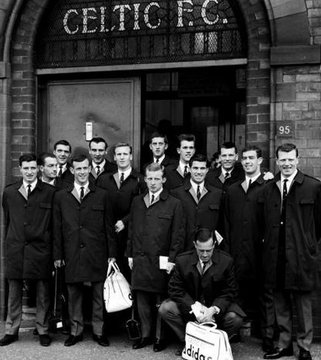 "At outside-right was John Gartland, who revelled in the nickname "Judy" for obvious reasons. He was greased lightning and could run 100 yards in 10 seconds. His parents owned Gartland's Rolls, a bakery in Rutherglen. It was a family business which was later taken over by one of the bigger companies, Morton's I believe. John went on a supporters' charter to Milan for the European Cup final in 1970. One of the stewardesses on the flight was Rae Stein, Jock's daughter, and they later married.
"There was only one problem for Harry. He had signed an amateur form for St Roch's, which prevented him playing in the Scottish Secondary Shield – the schoolboy equivalent of the Scottish Cup."
It is unclear whether that ban covered all rounds of the major competition or just the final. Holyrood progressed steadily with the key tie being a last-16 clash with Lanark Grammar, Willie Waddell's old school. The Glasgow boys would eventually win 4-1 at the fourth attempt to reach the quarter-final. There they would face Our Lady's High from Motherwell, whose colours had been worn with such distinction by both Billy McNeill and Bobby Murdoch. Indeed, Bobby would have been part of their 1960 winning team, as was the aforementioned John Cushley.
Holyrood would again triumph by 4-1, on Saturday, 24 February 1962, to set up a semi-final clash with St Gerard's from Govan, where yet more future Lisbon Lions had developed their craft, Jim Craig winning Scotland schoolboy caps there the previous season whilst a 16-year-old Joe McBride would possibly have played in their cup-winning side of 1954.
For the third successive Saturday, Holyrood would record a 4-1 win in the Scottish Secondary Shield, Harry's boys now awaiting the winner of great rivals Lourdes and Falkirk High in the final. As an aside, as Holyrood were beating St Gerard's at their Dixon Road home, just a few miles away at Parkhead another of the immortal Lions was making his debut in the Hoops. With Ardeer Recreation's Scottish Junior Cup dreams over, Bobby Lennox had been called up by Celtic, and on Saturday, 3 March 1962, the Saltcoats Bhoy played his part as a late Billy McNeill header secured a 2-1 win over Dundee, handing the title initiative to Rangers with just eight games remaining.
Three years earlier, McGrory's Hoops had beaten Hearts on the final day of the League season to literally hand the flag to Rangers. Bob Kelly may have divided opinion, however, there was certainly never any question around Celtic's sporting integrity when he was at the helm.
The last day of March 1962 saw a virtual League decider for the Holyrood team, as they travelled to Cardonald to face Lourdes with the following line-up.
Denis Connaghan; Rigby & Tommy Doherty; P McLean, Andy McManus & Conrad La Pointe;
John Gartland, Harry Murphy, John McCafferty, Harry Hood & Gray.
The visitors had led the Division from the outset but would now see Lourdes overtake them following a 4-3 defeat. Holyrood were 3-0 down before John McCafferty pulled a goal back, and it was 4-1 before their two Harry's – Hood and Murphy – set up a cliffhanger of a finish. Harry Hood's direct opponent, Frank McCarron, had been selected with him for the Glasgow Schools side back in November, and the powerful Scotland Schoolboys' skipper would sign for Celtic on Monday, 28 May 1962. Lourdes would go on to clinch the Glasgow League title after the four Division 1 leaders played-off that same month.
As an aside, whilst Holyrood were going down at Cardonald, just a few miles away at Ibrox there were disgraceful scenes as Celtic lost their Scottish Cup semi-final to a Willie Fernie-inspired St Mirren. Bob Kelly allegedly conceded the tie before the pitch was cleared and the game restarted. Celtic lost 3-1.
* This extract from the official Harry Hood biography Twice As Good is dedicated to the memory of Frank McCarron, who passed away on last Thursday.
Rest in peace, Frank.
Another Bhoy who got to live the dream by pulling on those Hoops.
Hail Hail!
Matt Corr
Celtic tour of the USA in the summer of 1966. John Clark, Bobby Murdoch, John Cushley, Charlie Gallagher & Frank McCarron with the Lady in the Harbour in the background.

Frank McCarron RIP (1943-2021) https://t.co/LVVOsbSsDq

FTA: @marieclarkg12
originally posted by @IamtheDJ40 pic.twitter.com/7YTC7NdGqA

— JoeBloggsCity (@joebloggscity) November 10, 2021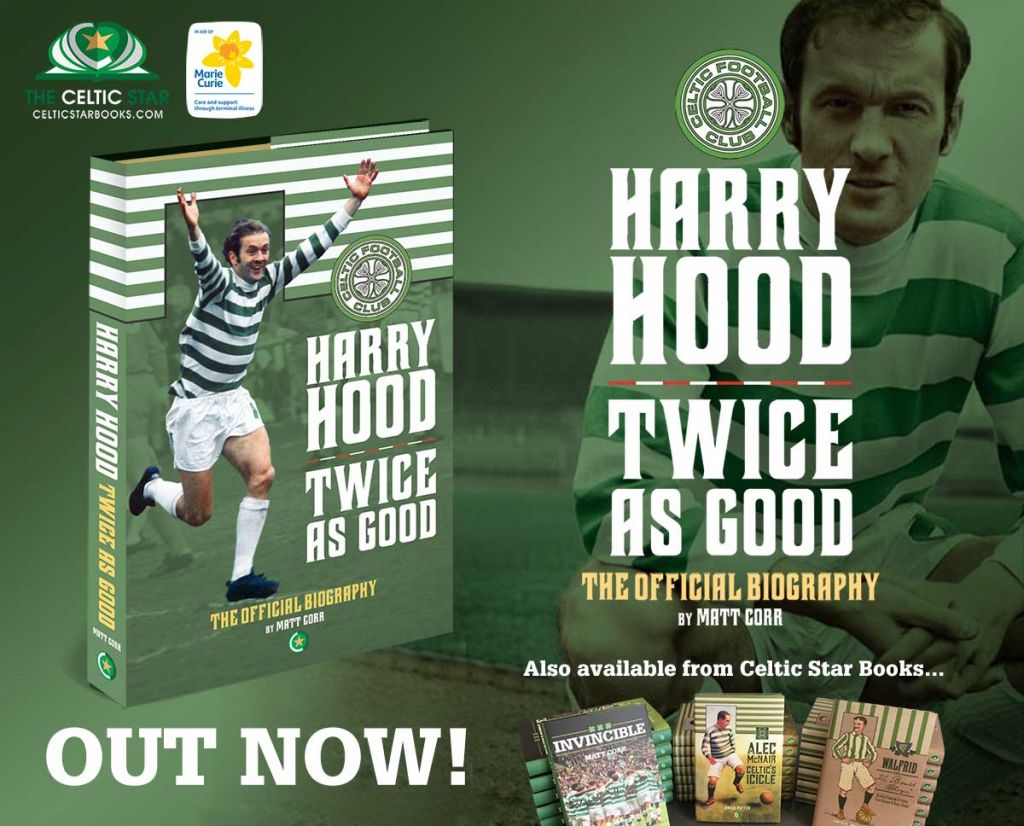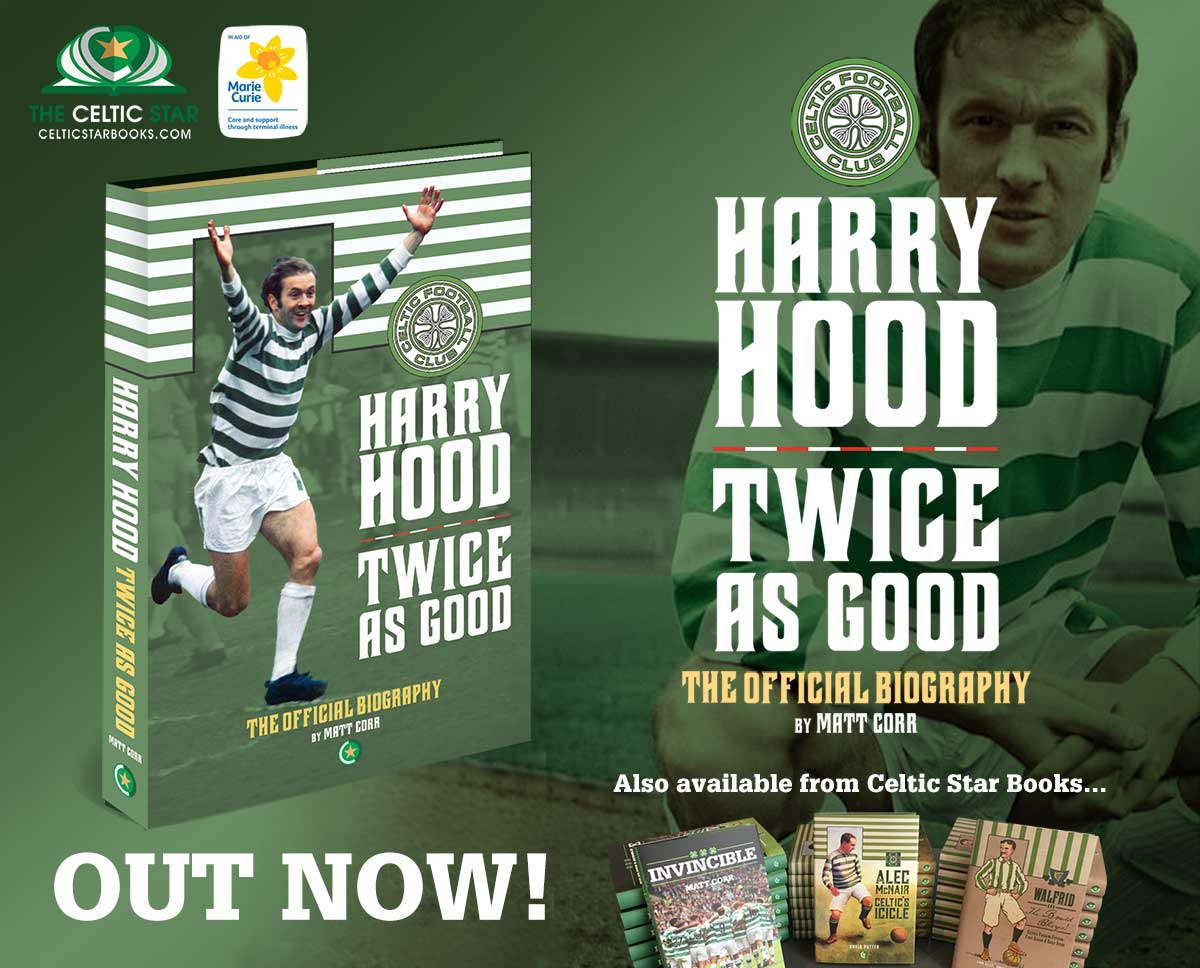 Listen to Matt Corr talking about Harry Hood in the latest podcast from The Celtic Exchange.
☘️ "Harry Hood – Twice As Good" with @Boola_vogue

🎙On the release of the official biography we sat with Matt Corr to look at the remarkable story of Harry Hood

⚽️ Goal Machine
✍️ A Masterstroke by Stein
🏴󠁧󠁢󠁳󠁣󠁴󠁿 International Honour & More

🎧 Listen now @ https://t.co/xfBtk8w5ek pic.twitter.com/haRrDZAGhz

— The Celtic Exchange Podcast 🎙 (@CeltExchange) November 5, 2021