This guy…Sunday Times hack, who wrote the match report from Celtic Park yesterday afternoon..on his twitter handle states that he's the ghost-writer for a few football biographies…in his own words:
"Scottish Football Correspondent for The Sunday Times among other things, ghost writer for Graeme Souness' and David Weir's autobiographies" he stated. This was his initial thoughts on Celtic beating St Johnstone 2-0 yesterday….
St Johnstone stuffy today and made Celtic work for their win. Not much inspiration from Jota or Furuhashi on this occasion and Starfelt looks shaky every time I see him. Callum McGregor still Celtic's best player by a distance and needs more support. Title race looks wide open..

— Douglas Alexander (@DougieSTSport) October 23, 2021
Here's how he saw the match yesterday at Celtic Park…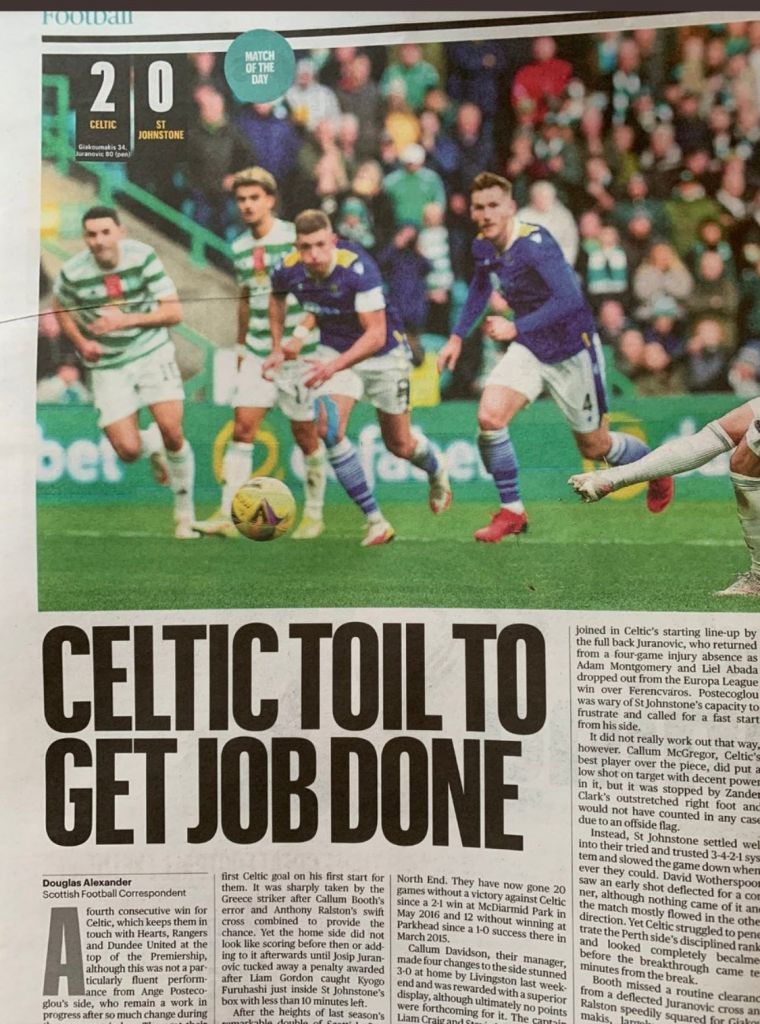 Feedback – "I would implore you to seek out some statistics on Carl Starfelt yesterday and then maybe reassess your quite frankly baseless opinion, you wonder why your industry is dying."
At what point did Starfelt look shake yesterday? Where you actually there?
"Starfelt was excellent again yesterday you dunce."
"Lol. Starfelt was terrific today."
"As a man famously used to say on Radio Clyde , " were you at the game today caller " that's a "match report " done sitting on the couch after watching the highly impartial sport scene highlights.
"Hi Douglas. Can you tell us all who won the penalty? That essentially sealed the 3 points? Did starfelt produce his best numbers for a game so far in this game also? Appears you've had a mare here."
"Think you watched a different game from most of us."
"Douglas, what game were you at?"
Maybe he shared in their EBT payouts !
Toil? Were you at the game hen? 😂 pic.twitter.com/0jLtBEscBr

— Spam Rogic 🏴󠁧󠁢󠁳󠁣󠁴󠁿 (@SpamRogic) October 24, 2021