THE SCOTTISH GOVERNMENT have issued a statement, condemning Celtic for an alleged breach of COVID-19 regulations. A Government spokesman told Sky Sports that this was a breach of the regulations and that they hoped the footballing authorities would act.
"We would condemn any gathering at a football club or sporting venue that is in breach of the Covid-19 guidance – wherever it takes place – agreed between the SPFL and the Scottish Government, that puts individuals and their families at risk of infection and serious illness.
"If the examples being highlighted today do prove to have happened, we would consider them deeply disappointing and irresponsible, and would expect this to be taken extremely seriously by the football authorities.
"Professional football has considerable privileges – but these depend on following the guidance."
However, Celtic issued a statement last night saying that they had adhered to the correct regulations and acted in accordance with them with all of the players taking part after returning a negative COVID-19 test result.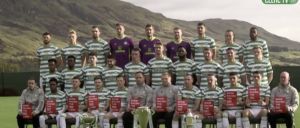 "The photo was taken and published weeks ago and undertaken with all established protocols. We will happily discuss this with the Scottish Government should they wish to do so.
"Celtic's own stringent protocols have ensured that, to date, following thousands of individual tests, we have recorded no positive cases within our squad with the only cases affecting the club being recorded while our players have been away on international duty."
Celtic were on the end of a COVID-19 'yellow card' after Bolingoli's jaunt to Spain but since that episode at the beginning of the season, a number of players have tested positive on international duty. The Celtic bubble appears to be safe and the club are confident in the stringent checks that are in place to ensure the safety of the individuals as well as the group.
Interestingly, the Scottish Government praised Rangers after two of their players broke not only COVID-19 restrictions for footballers but also the rules for normal people. However, posing for a team photo weeks ago is at the forefront of the breaches seemingly.
If only Celtic were as proactive in communicating with supporters, who in recent weeks feel like they are just consumers to the club.