Celtic's PR strategy continues with The Herald and Glasgow Times freelance journalist Alison McConnell for a second day in a row having an exclusive on the club's response to the weekend outrage among what appears to be the majority of the Celtic support who have now lost patience with Neil Lennon and the kind of manager that he is.
Yet while Martin O'Neill makes very valid points in this interview he nevertheless completely fails to appreciate the reason why these Celtic supporters want Neil Lennon gone. We'll try to explain on behalf of the support.
First though to MON's admirable defence of one of his own foot soldiers. He blames COVID and the impact that no fans has had on the season for Celtic. We have the biggest and best support so miss the backing more. He blames Bolingoli who unlike Peter Lawwell and Neil Lennon it seems, knows how to get into the Champions League. He did give away a penalty at Old Trafford this evening but nevertheless looked half decent (no really!) so maybe we'll get more of the £3million spent on him back than we'd previously feared.
Tomorrow's @heraldscotland Sport front page #scotpapers pic.twitter.com/WvfvuywM5x

— Herald and Times Sport (@HandTsport) November 24, 2020
But MON refuses to accept that Neil Lennon should be blamed and points to him seeing out the Treble after Brendan Rodgers left and being only one game – the Scottish Cup Final next month against Hearts – away from completing yet another treble.
As for the league the former Celtic manager refuses to accept that it's over and believes that Neil Lennon can lead Celtic to Ten-in-a-Row.
The fact that O'Neill's interview is covered by the same journalist – who is close to the Celtic CEO – who 24 hours before got the exclusive word from Celtic that the board were backing Lennon despite the mounting pressure from fans and would give him the next month or so to build up a run of wins ahead of the trip to Ibrox on 2 January, points to this being a coordinated response from the club.
Fair enough, nothing wrong with that, but everyone should understand how this is being played.
Where Martin is not fully addressing the situation with the support is that after having an elite football coach who is in tune with the modern game and the methods necessary to succeed in this day and age, to play football in a progressive manner, to start to make an impact on Europe and to develop players and bring players though and unfortunately Neil Lennon delivers none of that – more so without his own backroom team who were not allowed to follow him back to Paradise.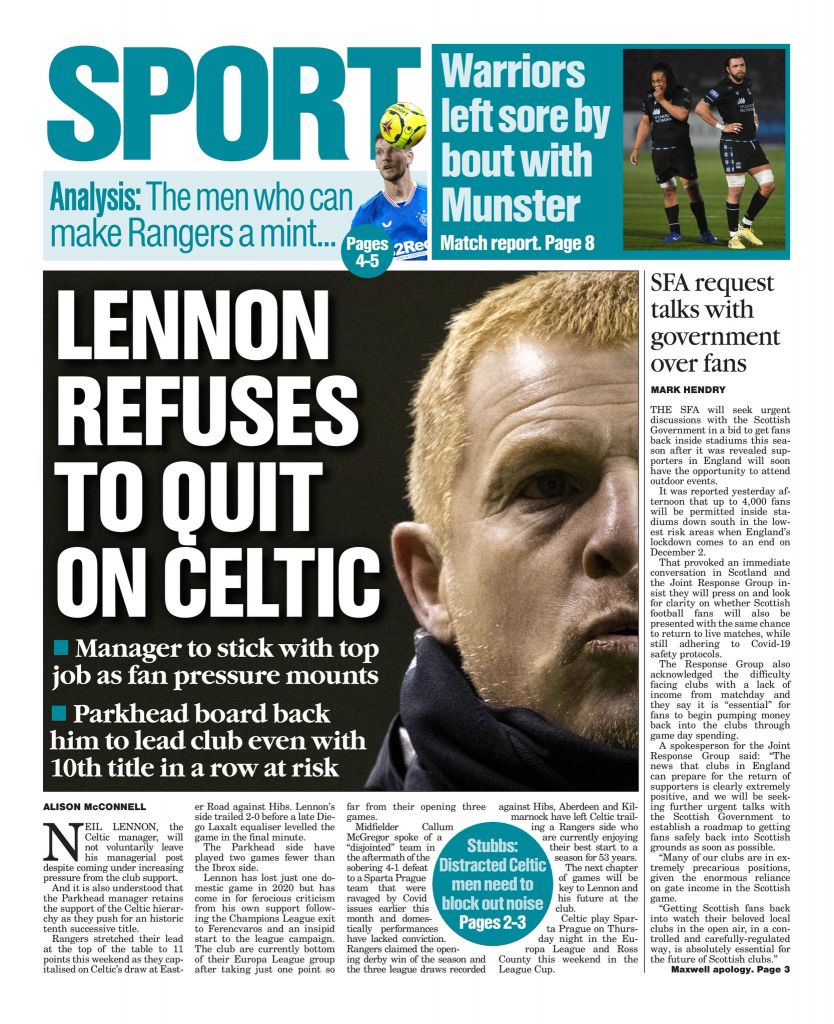 Tactically Celtic are all over the place this season. Games where there are no strikers. Wingers at full back the season after it was Callum McGregor playing there. Shane Duffy, the hitherto respected Irish captain, left horribly exposed and looking like a pub team player, the fastest man in Scottish football standing still as our keeper makes what could have been a crucial penalty save in the hunt for Ten-in-a-Row. Strikers who are never match fit. Leigh Griffiths who was scoring hat-tricks before the lockdown yet is still unable to play 90 minutes. Odsonne Edouard who has gone drastically backwards. Players like Ryan Christie asking for a transfer before a ball was kicked this season and playing like he's only in it for himself. Bolingoli sneaking off to meet a girl in Spain. Listen we could go on and on.
The problem is this. Celtic brought in Brendan Rodgers and it was an eye-opener. The support felt bitterly betrayed when he left because they like the players, we were totally under his spell. He raised the bar and made us see what was possible. But him and Peter Lawwell fell out and there was only going to be one winner.
To the support, who didn't want Neil Lennon to get the job after delivering that Treble in May 2019, we said this. Under Peter Lawwell management structure Neil Lennon was the best we were going to get and MON is perfectly correct, he is 90 minutes away from completing his own personal treble as Celtic manager. A wonderful achievement. But after this season league wins stop being about doing the Ten and it's the club's position as an elite club in the game that is what supporters want. Not losing four goals at home to teams like Cluj and Sparta Prague Reserves.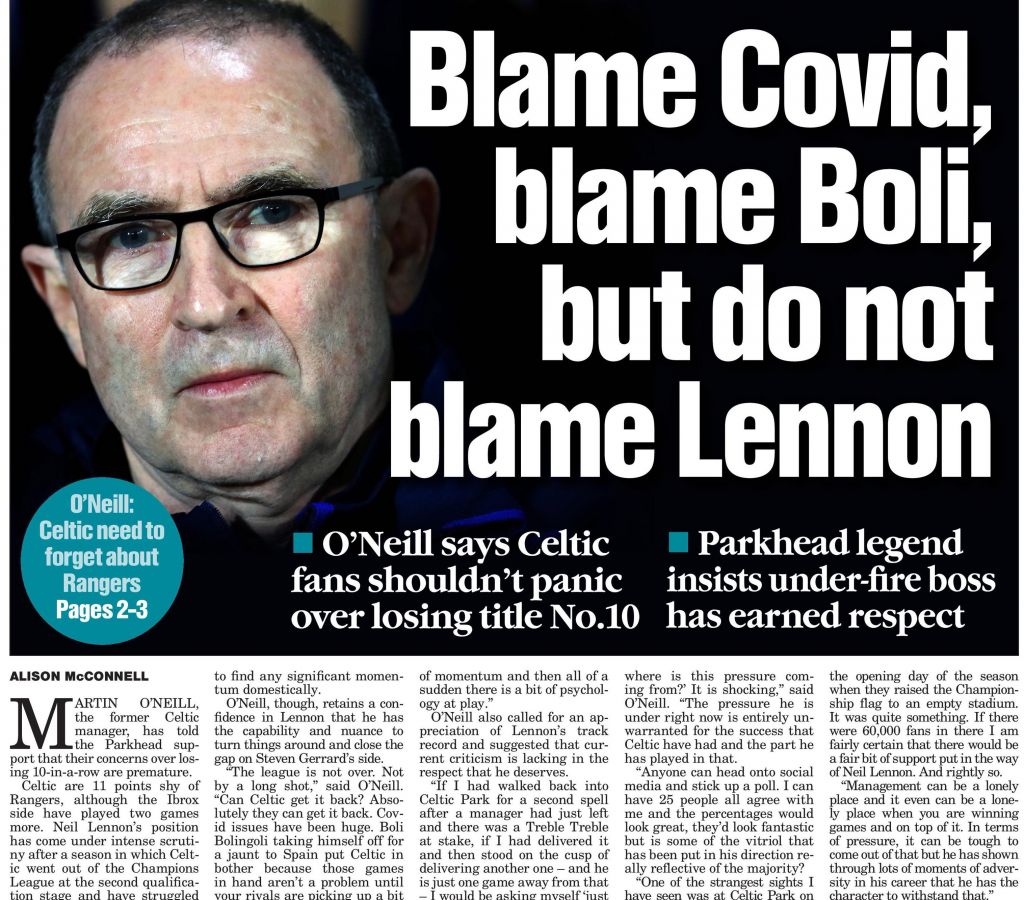 Lennon was not even allowed to bring his own backroom staff in. Lawwell assembled that too. Nick Hammond was brought in to handle recruitment – not looking great so far this season is it? Gavin Strachan replaced Damien Duff (a down grade on a down grade) and John Kennedy was Lawwell's man who sensibly was in place to soak up the high standards that Rodgers and his team brought to Celtic. He sits on the Celtic bench these days looking like he's in the huff – don't they all see the chemistry that the support picks up? The body language is not good.
It is no coincidence that theRangers are improving under Beale (former Liverpool Under 23 coach who is highly regarded at Anfield) and Gerrard. Are they really improving theRangers players? Undoubtedly. Are Neil Lennon and John Kennedy improving the Celtic players? Name one that has progressed this season Martin, just one.
And if we do not win Ten-in-a-Row and theRangers go into the Champions League qualifiers do you really believe that they will slip up against the likes of Cluj and Ferencvaros? One look at their European record over the past few years will answer that one. Celtic have squandered maybe £90million over the past three years missing up the Champions League qualifiers.
But these Celtic supporters want something that the club with Peter Lawwell in charge won't deliver again. It is believed that Lawwell will leave the club at the end of the season. That is why we said yesterday that even if he wins the Ten then Neil Lennon's time is up at the end of this season at the latest.  He has always had our support as Celtic manager because as we said he was the best we were going to get under the environment that existed at the club after Lawwell won the power struggle with Rodgers.
But at the end of this season, whether the Ten happens or not, there is a chance for Celtic to become much more forward thinking as a football club and start to re-establish ourselves as a force in Europe. In 2020, no-one can suggest we have not been consistent at Celtic Park in European football – in the three meaningful games we've lost them all badly.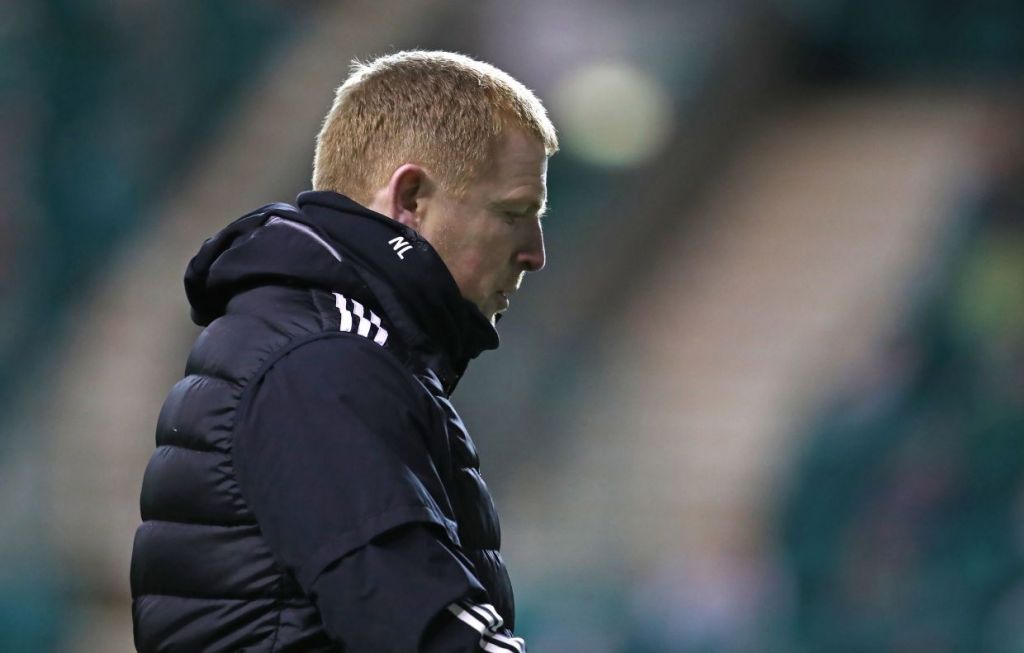 Neil Lennon was appointed in the shower at Hampden. CVs from other applicants were left in a drawer. Since that time it appears that much of what Rodgers brought to the club has been gradually eroded. We have no clear playing identity. Players are unhappy. Players want to leave. We are back to playing the same keeper who was dropped after the Cluj fiasco. The post match call outs from the manager this season are worryingly similar to what happened at Hibs in his last few months there.
The Celtic support isn't daft. We have all invested heavily – emotionally and financially – in the club and will continue to do so, but we will be heard and Neil Lennon himself will know the truth. He may well turn things round , he may not – the bookies say it's a 3/1 chance – but it's still time – now, on 2 January or at the end of May to go with his head held high and as a Celtic man. And those last three words is why Neil Lennon should be allowed to make the call himself. It's only results that will keep Neil there until the end of the season. If he can't deliver the results needed  he should resign. And it's all about the short term. Building the new Celtic starts in the summer.
Sacking him now would means a caretaker situation – like O'Neill/Keane or Gavin Strachan's dad – and that would mean that the bookies odds would lengthen still further. The main thing is a new structure is put in place come the summer and an elite football coach is appointed as the Celtic manager to run the football department at the club. That's a bigger prize than anything else including betting on a 3/1 outsider currently drifting.