Tommy Callaghan was born in Cowdenbeath on this day in 1944, and not 6 December 1945 as Wikipedia would suggest, making Tommy perhaps the only man ever to claim he is a year older than folk believe he is!
And he was born to play football.
It was in his DNA.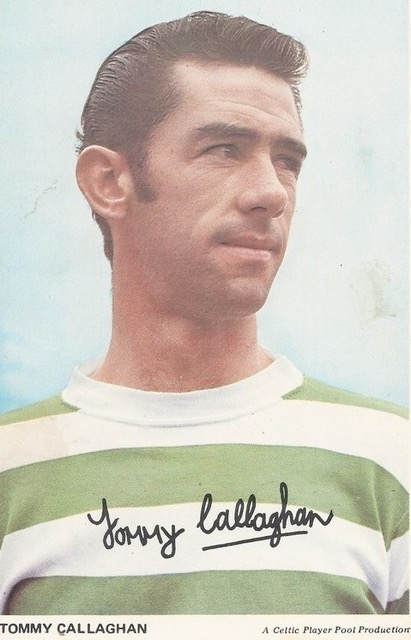 Around a decade ago, Cowdenbeath FC's historian David Allan recalled that Tommy's father Willie had played with local junior outfit Kelty St Joseph's – he was nicknamed 'Speedy' as a rather ironic reference to his shuffling running style – before emigrating to Canada in 1924.
Five years later, Willie Callaghan married Ellen Flannigan in Windsor, Ontario. The Flannigan's were also latterly of Fife stock. Ellen's parents John and Ann Flannigan, nee McHale, were married in County Mayo, Ireland on 5 April 1894 but headed to Scotland around the turn of the century, where mason's labourer John and his new bride would raise their family. Two of their sons – Ellen's brothers – would go on to play football professionally in Scotland.
David Flannigan very nearly shared a birthday with his future nephew Tommy. He was born in the early hours of 7 December 1905 in Edinburgh's Cowgate, an area where for many years the Irish diaspora in Scotland had settled in great numbers, including that wonderful socialist and republican James Connolly.
By the time Ellen's younger brother Patrick was born on 19 May 1909, the family had moved across the River Forth to 63 Adam's Terrace in the mining community of Kelty in West Fife.
Football was most definitely in the Flannigan blood.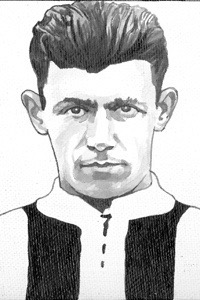 Dave was a sturdy wing-half who came through the ranks at local junior outfit Kelty Rangers before joining Third Lanark. Known as 'Slider' he was a part of the promotion-winning Cathkin side in 1927/28 before signing for English First Division giants Newcastle United for a fee of £2,500 on 20 June 1928. Dave played three League games for the Magpies, all in September 1928, making his debut at Villa Park in a 1-1 draw beside the great Scottish striker Hughie Gallagher.
A 1-0 Newcastle victory over Leicester City marked his only first-team appearance at St James Park the following Saturday, with a 2-0 defeat to Blackburn Rovers at Ewood Park 48 hours later being his last match at that level.
He spent some time at East Stirlingshire before being freed by the Geordies in the spring of 1930. At that point he considered heading to the USA with younger brother Patrick, but instead signed for Arbroath on 12 July 1930. Dave spent the 1930/31 campaign at Arbroath, where he scored three goals in 33 Second Division appearances and is also credited with spells in Ireland with Ballymena United, Coleraine and Glenavon.
Pat Flannigan also commenced his football career with Kelty Rangers. Another promising left-sided wing-half, the 17-year-old was picked up by Cowdenbeath – at that time a First Division outfit – in 1926. Pat spent two years at Central Park, which included a loan spell with Lochgelly United, before joining Liverpool on 3 December 1928. One of his Cowdenbeath teammates was goalkeeper John Falconer, who would become famous for the saddest of reasons on 12 September 1931, as the man who replaced John Thomson in the Celtic goals just seven days after his tragic death. More to follow on that connection.
Young Pat would not make a First Division appearance for Liverpool in an 8-month stint on Merseyside, but he would add one English League match to the 21 Scottish League games he managed at Cowdenbeath. That arrived during the 1929/30 season, which he spent on loan at second-tier Bradford City. In June 1930, having recently celebrated his 21st birthday, Pat Flannigan decided to try his luck across the Atlantic.
That move would bring success and also provides the first evidence I have to link Tommy Callaghan to Celtic. On 1 July 1930, Pat joined the New York Giants, the third and latest version of which commenced their American Soccer League campaign in February 1931. By the end of May, the Giants had been declared Spring Champions, edging out Brooklyn Wanderers, New York Yankees and Pawtucket Rangers on a strange 'percentage of points won to points available' basis. Securing fifth spot in that nine-team ASL table was Massachusetts outfit Fall River, who featured a Canadian goalkeeper named James T Kennaway, known as Joe. More to follow on Joe, also.
On Sunday, 24 May 1931, 'Paddy' Flannigan and several of his teammates would receive a real taste of home, as Scottish Cup-winners Celtic arrived in New York City for the second match of their US tour, a clash with the Giants at the Polo Grounds in Upper Manhattan. The teams lined up as follows, in front of 35,000 spectators.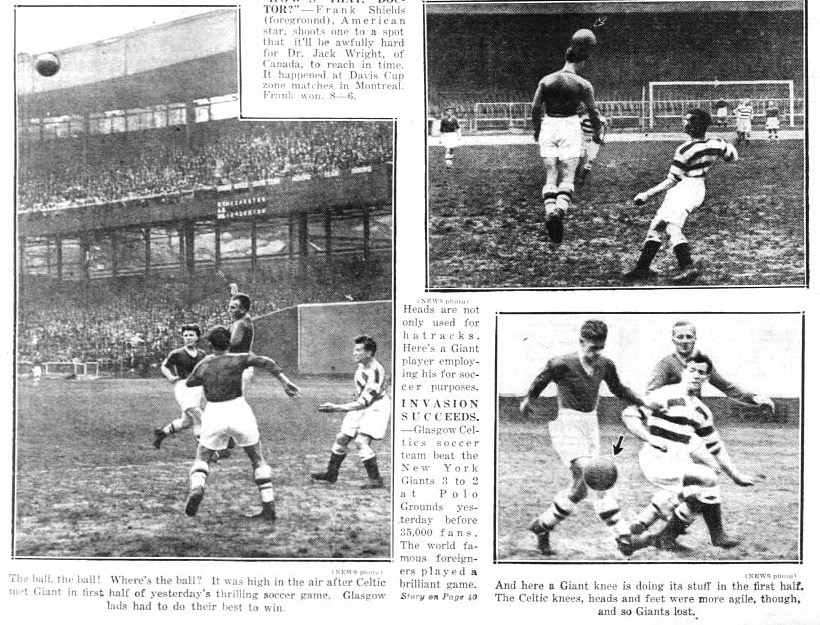 New York Giants
Jock Brown; Teddy Glover & James Martyn; Paddy Flannigan, Hugh Lafferty & Johnny Slaven; Jimmy Gallagher, Herbert Carlson, Davey Brown, Shamus O'Brien & Bart McGhee.

Celtic
John Thomson; Willie Cook & Peter McGonagle; Peter Wilson, Jimmy McStay & Chic Geatons;  Bertie Thomson, Alec Thomson, Jimmy McGrory, Peter Scarff & Charlie Napier.
The famous visitors took the lead through Charlie 'Happy Feet' Napier after 20 minutes but were then rocked by a double-blow in the lead-up to the interval, with the Giants' Scottish contingent very much to the fore. First Bartholomew 'Bart' McGhee set up Jimmy Gallagher for the equaliser, then Kirkintilloch-born Gallagher turned goalmaker, teeing up Neilston boy Shamus O'Brien to beat John Thomson and send the Hoops in 2-1 down at the break.
A native of Edinburgh, McGhee was the son of Jimmy, Hibernian's Scottish Cup-winning captain from 1887 who played for the Leith men in the first-ever match at Celtic Park against Cowlairs and who later joined Willie Maley's Bould Bhoys in 1890. Both Bart McGhee and Jimmy Gallagher had starred for the USA as they finished third in the inaugural World Cup in Uruguay the previous summer, McGhee scoring his adopted country's opening goal in the tournament.
Not for the first or last time, the great McGrory would come to Celtic's rescue. On the hour, Garngad's Scottish Cup final hero made it 2-2 and he would also have the last word with a late strike, as the Hoops made it two wins in 24 hours following their arrival in the USA.
So, Tommy Callaghan's Uncle Pat played against Celtic's Scottish Cup-winning vintage of 1931, Thomson, McStay, McGrory et al.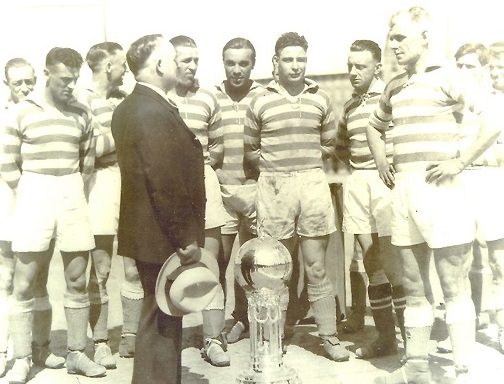 As a footnote to this game, seven days later, Sunday, 31 May 1931, an unchanged Celtic side ran out at Mark's Stadium in Rhode Island, to face Fall River. On a blisteringly hot afternoon, the hosts would win 1-0 following a late free-kick from Billy Watson, with John Thomson carrying the ball over the line in his attempts to clear.
The match was memorable for the performance at the other end by Joe Kennaway, something which would be recalled a few months later after John's tragic death with life-changing implications for Kennaway. Thus, two men born thousands of miles apart and whose fates would be intertwined in Celtic's history for the saddest of reasons would appear on a football field together for the one and only time.
To be continued.
Happy birthday, Tommy!
A wonderful Celt and an absolute gentleman.
Matt Corr
Follow Matt on Twitter @Boola_vogue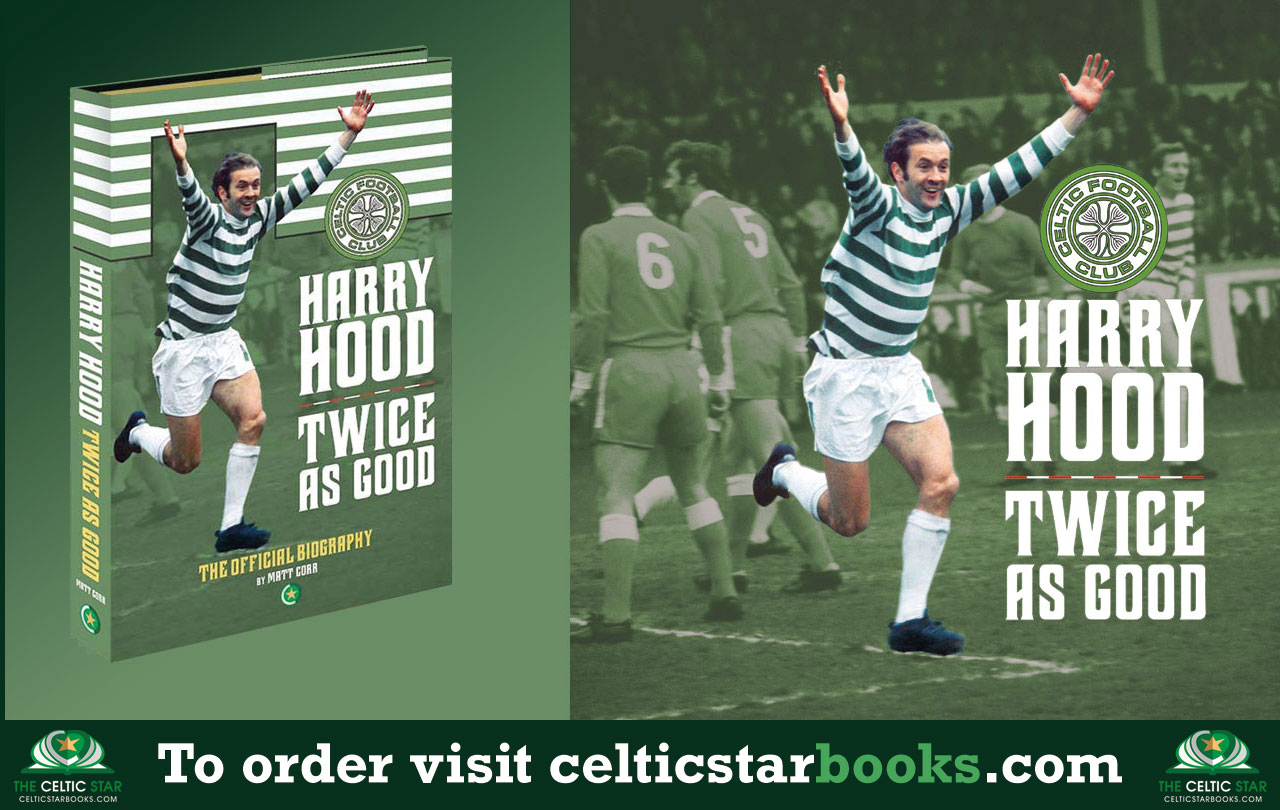 Keep up to date on Twitter @HarryHoodBook
morestories category=8]