IT is just as well I didn't plan to do any work on the flight. The trip to Transylvania is the journey from hell. It starts badly as first I am asked by a smiling mother if her son can have my preferred window seat and I do what any gentleman would do, plank myself on the aisle.
Then a helpful Cockney with about a dozen kids boards the flight at the last-minute and promptly starts to empty the smaller bags which are already in the locker, including yours truly's complete with iPad, as he attempts to find space for his collection of large suitcases. As I even more helpfully tell him to put it back where I had left it, the steward intervenes and I will now spend the best part of three hours with a rucksack jammed between my feet, as large bags take priority apparently.
I am seriously p…cheesed off and it's about to get worse. The noise of the plane taking off is drowned by the sound of screaming kids, as I find myself the only guy in a crowd of mothers and distressed babies. I feel like Hugh Grant in the film About a Boy but without either the yummy mummy's or the humour. Huff declared.
We finally land in Cluj and I seek out a taxi, as I don't know any Transylvanian therapists. As a solo traveller who is not in the first flush of youth, I am always a bit wary when arriving in a new country. A taxi driver catches my eye and we agree a price for the journey into town.
As with Atif in Sarajevo, the conversation very quickly turns to football. Alin is not a huge fan but his son is and they are both going to the game tomorrow. He thinks the match will end up a draw. He tells me about the bitter rivalry between CFR (pronounced Che-fe-ray) and Universitatea (known as 'U' and pronounced as 'ooh'), which creates a bit of tension in Cluj whenever the two sides clash. This doesn't happen as often at the moment as U Cluj are in the second tier after going through some financial difficulties, despite seeing themselves as the bigger club in the city.
I'll just leave that one hanging there.
Alin is helpful in terms of giving me the lowdown on the city. Apparently, I'm about 15 minutes' walk along the main road into the old city, where most of the sights and the nightlife are. Best Romanian beer is called Ursus (he shows me the logo on his mobile!) and there a few pubs which sell Guinness, so I will probably survive until Thursday.
He drops me off at the Hotel Platinia after a slight detour to point out the Cluj Arena and the direction of CFR's stadium. Just two nights earlier, Robbie Williams had played to 80,000 fans in the Arena, as the headline act in the weekend Untold Festival. The Cluj Arena looks quite spectacular. It is just around the corner from the hotel, whilst the ground where the game will be played tomorrow night, the Dr Constantin Rădulescu, is around a 40-minute walk.
I check into the hotel and I have absolutely landed on my feet. It's a suite, complete with office area. Possibly the nicest hotel room I have ever had. Result. I will get some work done with a bit of luck.
Showered and changed, I head into the old town to explore. It's around 9pm local time, which is two hours ahead of Glasgow. Lubeck Joe has been here since yesterday and has already texted the 'go to' places. I find the recommended Irish Bar, O'Peters, which is located at the end of a cobbled street which looks like Ashton Lane in Glasgow's West End. The troops are already there in numbers, in a terraced area outside on the street. I head downstairs and order a pint of Black Gold.
On the way into the lane, I have stopped a guy in Hoops to confirm I'm in the right general direction. To me he's a stranger but as I make eye contact he comes over. 'Hi Matt, I'm Tony. I like your stuff!' I tell him to pop in for a pint when he's finished doing what he's doing and sure enough he does.
We chew the fat over a couple of beers and a portion of chicken wings, the athlete's diet. Tony has been here since Sunday and is staying in a hostel. It must be the world's biggest, as every second guy who comes into the pub seems to know him and is brought over for introductions and a chat.
He orders two Palincas from the bar, explaining that the local delicacy is 50% proof and should be taken slowly. I'm thinking that at 50% proof it probably shouldn't be taken at all but nevertheless I have a sip. When I finally recover my sense of taste, I wash it down with some Guinness. That will be it for me and Palinca, as Tony happily offers it to each of the various guests who wander across to their fate.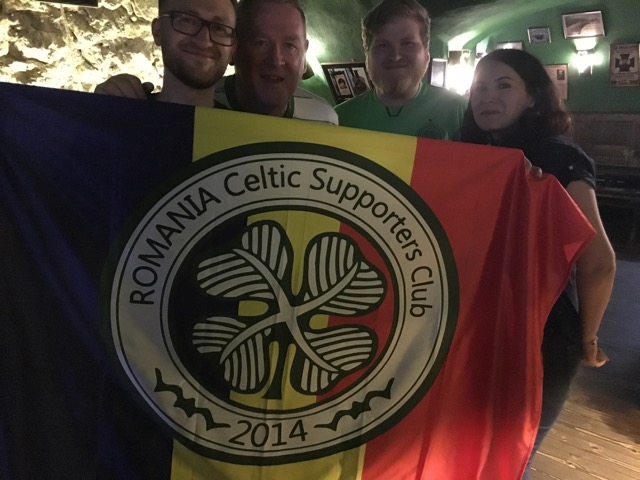 Tony moves on eventually – presumably to rehab – and I find myself standing next to a young guy draped in a Romanian flag with a Celtic crest. I ask him what the story is, as you do. Owen is from Forres but lives and works in Cluj.
He currently teaches primary kids at the local international school. With his friend, he set up the Romanian CSC and this is the dream draw for him as it allows his father, Tam and brother, Rurairidh, to come for a visit and the match.
Also there is Owen's beautiful Romanian girlfriend, Alex. She is from Bucharest but they actually met in Copenhagen, on a previous work assignment. There is a great photo opportunity taken and Rurairidh gives me a Romanian CSC badge for my tour blazer. They spend a couple of hours with me in the pub. Lovely company.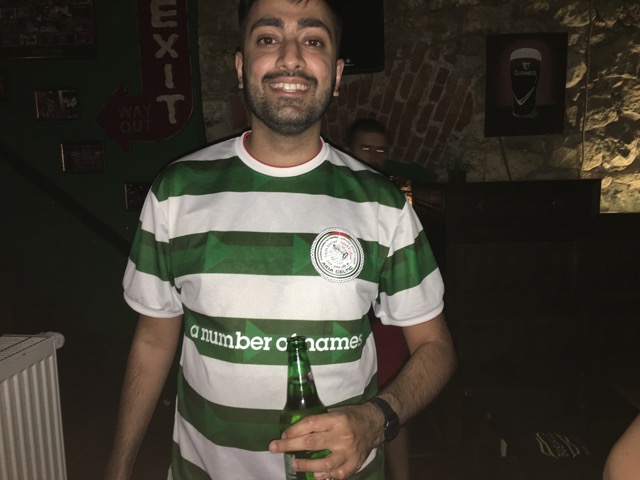 Joining us at one stage is Zeyn from Glasgow. I had noticed him earlier – on the flight presumably – due to the distinctive hoops shirt he was wearing. The badge says 'Aida Celtic' and I want to know more.
Zeyn tells me the story of the Aida refugee camp in Bethlehem and the money raised by the Green Brigade's efforts to 'match the fine for Palestine', following UEFA charges for the display of an 'illicit banner' at the home match with Hapoel Be-er Sheva in 2016.
That same 'illicit banner' – the flag of Palestine – is cut into the design of this classic shirt, worn proudly by Zeyn. The tremendous sum raised by the GB helped to buy kit for a football team to represent the Aida refugee camp in the Bethlehem youth league, the club then named as Aida Celtic.
Despite UEFA's response, the view of the wider world was much more appreciative of such principles, as I have witnessed personally on recent trips to both Athens and Sarajevo, and would now do again in Cluj. More than a club indeed.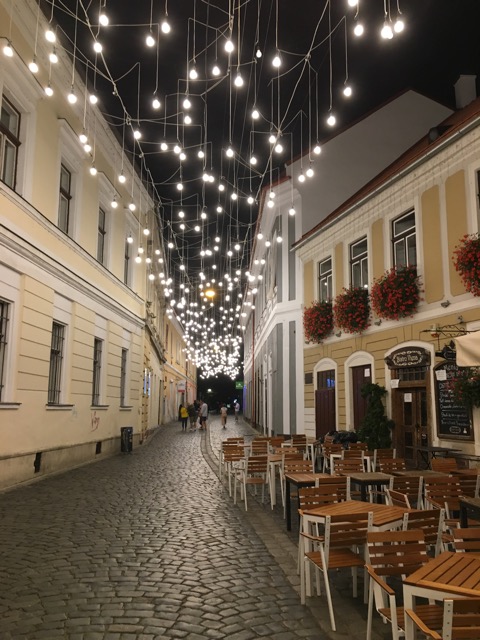 It's 2am local time and that will do it for me. I head out into the street and it is a complete contrast to earlier, now deserted and beautifully lit up, another classic photo op. Around the corner, there is a sign saying 'Street Food' outside a crowded shop. My son often talks of street food and I'm down with the kids after umpteen pints of Guinness and a Palinca, so I'm in there.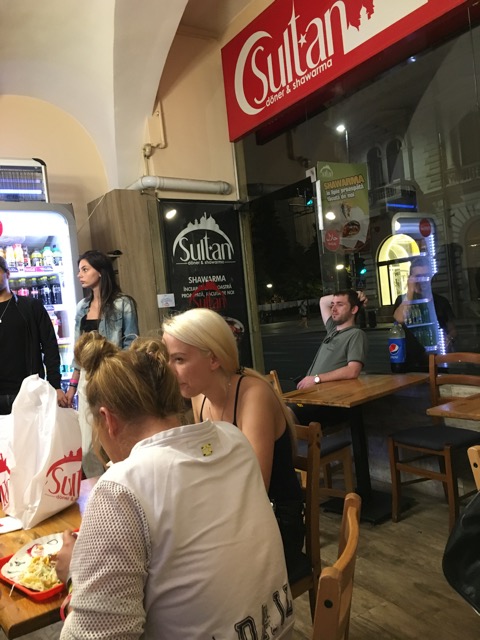 As I near the counter, I realise that this is simply Cluj's version of that classic Glasgow night-out ritual, the Kebab shop! You can take the Bhoy out of Springburn…
To be fair, it is huge and delicious and I enjoy sitting in the corner with the giant health risk, whilst people-watching in the early hours, before my walk home.
Part 3 will appear on The Celtic Star later this evening.
Hail Hail!
Matt Corr
If you missed Part 1 – We're all off to Transylvania in the green, in the green, Part 1, Love Island – you can catch up HERE.
Follow Matt on Twitter @Boola_vogue