FILIP BENKOVIC injured his knee at Pittodrie in the 4-3 win against Aberdeen and shouldn't really have started against the Rangers at Ibrox 3 days later. The Croatian defender though was determined not to miss that game but he was never really able to perform at his best and pretty early in the match it became clear that he had to go off.
Kristoffer Ajer came on as a replacement and another first half injury to Mikael Lustig meant that another chance was needed – Anthony Ralston emerged at the start of the second half to play at right back. With Kieran Tierney unable to play the Celtic defence was clearly short of available numbers that day and we all saw the result.
The good news though is that Benkovic, who will see out the season at Celtic, has now fully recovered and is eager to get on with the business of winning the League and Scottish Cup as well as pushing Valencia in the mouth-watering Europa League tie next month.
Speaking to the media from the club's training camp in Dubai, the on-loan Leicester City man started by providing an update on his knee injury.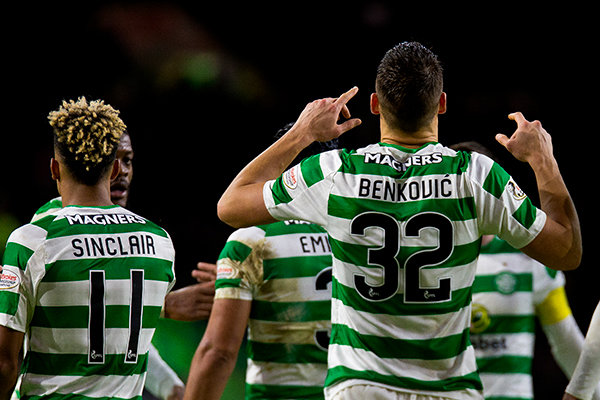 "My knee is good again. I had the problem for a few weeks in December but it's OK again. I've trained as normal in Dubai, doing my rehabilitation and some extra work on my knee.
"I still feel it a little bit but I can do everything on the pitch. If it stays like this, everything will be fine.
"During the Rangers match, I felt the same pain I'd felt at Aberdeen the week before in the 10th minute. I knew then that it was impossible to continue so I told the coach and we made the decision to come off.
"Before the game I'd taken some medicine, a lot of stuff, but it didn't help. We had a few injuries already in defence and sometimes you get days like that. It was tough, you know. But I tried. I just wasn't going to make it.
"In hindsight, maybe I shouldn't have played. But when you're a footballer you want to play in every game – especially that one!
"You play football for games like that. Those matches are different so you want to give everything – even if it's on one leg! So I tried but it didn't work. Now, I'm not thinking about the Rangers game any more.
"We didn't play well so we'll move forward to the next game. That defeat is in the past and our focus is to be much better."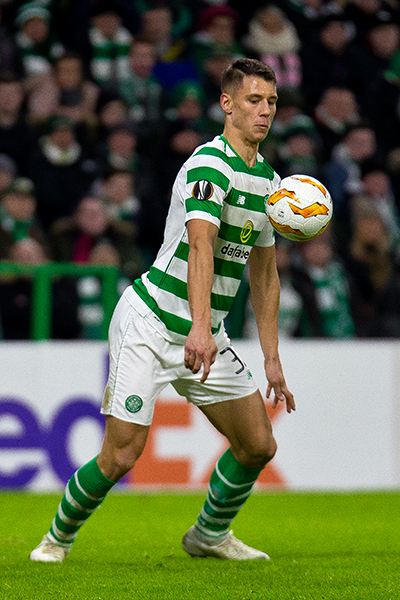 Benkovic, like the rest of his tired teammates will have benefited from the chance to rest, re-charge batteries and get ready for the crucial second part of the season with plenty to play for across three competitions.
In his first few months though Benkovic believes that playing at Celtic has already improved him as a player, but his end game remains playing in the English league.
"In this period at Celtic, I feel I've improved as a player every day. Here, I have the scope to work on every aspect of my game.
"That's vital if I want to go on to play at the very top level. I feel good here and that I'm doing a good job.
"Later in my career, when I look back, I want to say I did well at Celtic. I want to know that I worked hard and was very humble during my time in Scotland.
"This will prepare me for the Premier League. Experience is so important for a player because it then makes it easier to deal with certain situations. It makes you smarter. But nothing can happen without hard work because I think the Premier League is the No.1 in the world.
"Here at Celtic, I play with pressure, which is good. But that's normal for me – I came from a club in Croatia where it was the same. I like that, I enjoy the pressure. To me that's a positive, now and moving forward.
"The last information I had from Leicester was that I am staying at Celtic until the end of the season. I enjoy it here so that's what I'm focusing on. After that, we will speak and see what's for the best.
"I'm having fun here and want more of it."
As well as the league with its title race, Celtic begin the defence of the Scottish Cup on Saturday early evening when Airdrie visit Celtic Park. Then there is the February matches against Valencia in the Europa League and Benkovic is determined to make the most of what will be a very special occasion for him personally.
"We can't look too far ahead in the league because we have months of games still to go. I said I wanted three medals when I came here and I still feel that way. The mission for any player is to win everything on offer.
"But I can't wait for the Valencia game because European matches are really special. They don't come around every week.
"We know how tough it will be for us because Valencia are always near the top of La Liga. But it will be a great challenge for us."
Jim Craig – The loss of Celtic Star, Barney Battles…See HERE.
Latest on Wanyama plus Big Victor's Celtic talk…See HERE.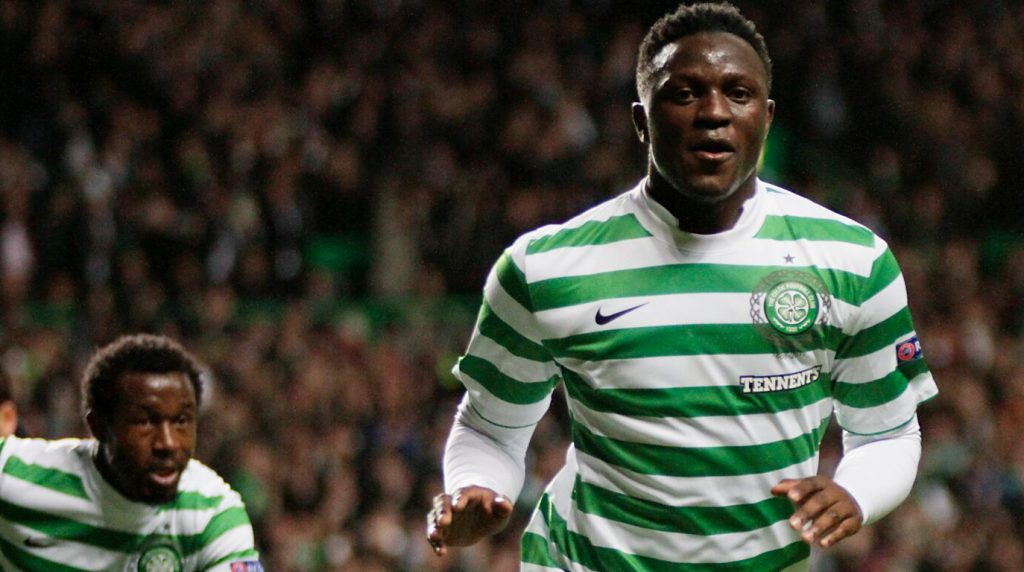 The unlikely Scott McKenna rumour, Timothy Castagne? Patience required…See HERE.