I'd imagine the away dressing room was a much quieter place last night than after the Romanian's 4-3 win in the Champions league 3rd qualifying round. There was no on pitch huddle to mock the hosts and an altogether more respectful and reserved Dan Petrescu, no doubt realising he's perhaps not as well qualified to manage the Hoops as he previously believed.
Cluj don't do respect on or off the pitch. I really don't like them for that. I've made no bones about feeling delighted we got the opportunity to face them so soon after the last meeting. It was a chance to show they got lucky that night. They didn't outsmart us, we did that to ourselves.
Instead Celtic Park was rocking to a home support already buoyed by news form Switzerland of the Rangers injury time defeat to Young Boys and well up for handing out a large serving of revenge to the Romanian Champions. A fine 2-0 win saw to that. It was far too soon since the last encounter to be a dish served cold. Instead they had retribution served up from a boiling Celtic Park cauldron. If Celtic had scored four or five last night our opponents could have had no complaints.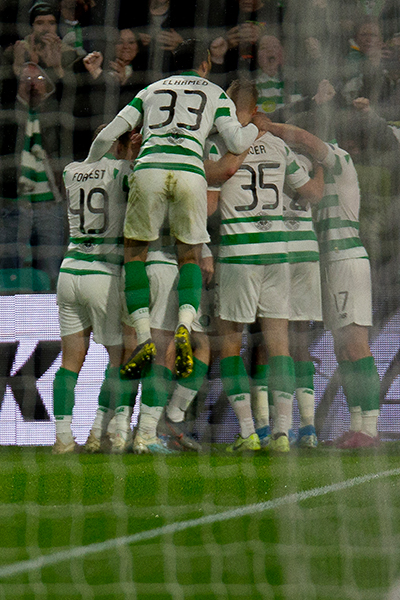 Cluj of course tried. We had the usual theatrics, attempts to con the referee, diving and elbowing. Par for the course attempts from a side who know they are no match in a straight up fight under Queensbury rules. Yes they landed a few punches and as the Green Brigade pointed out they had put us on the canvas previously, but Celtic stood up last night and came out swinging and as the banner said we wouldn't be staying down.
— North Curve Celtic (@NCCeltic) October 4, 2019
Christopher Jullien twice had fantastic heading opportunities and much like the Hibs game at the weekend he was just off target. The French centre half is getting his range though, there a big goal in the post for sure. James Forrest was also unlucky in the first half exchanges but the opening goal when it came via the head of French Eddy was a thing of beauty.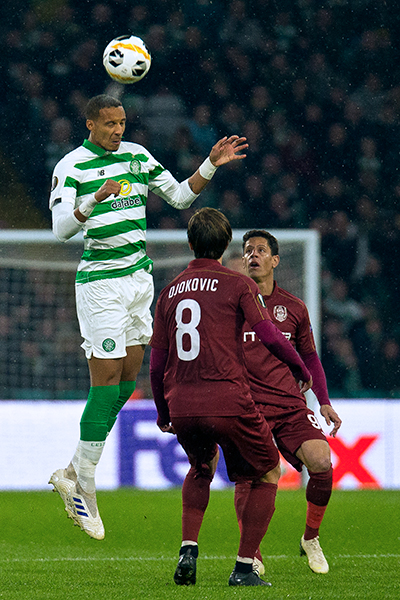 There was something incredibly fitting that the defence splitting pass came from the artistry of Callum McGregor. That previous defeat to Cluj had seen Calmac switched to left back and we missed his influence in the middle of the park. That single pass alone last night showed only ever in an absolute emergency should Calmac play anywhere other than the centre of Celtic's midfield.
Anyone old enough to remember Paul McStay's beautiful pass to the right wing to feed an overlapping Chris Morris who in turns delivered a ball across the goal for Frank McAvennie to score against Rangers in the Centenary season would recognise the comparison.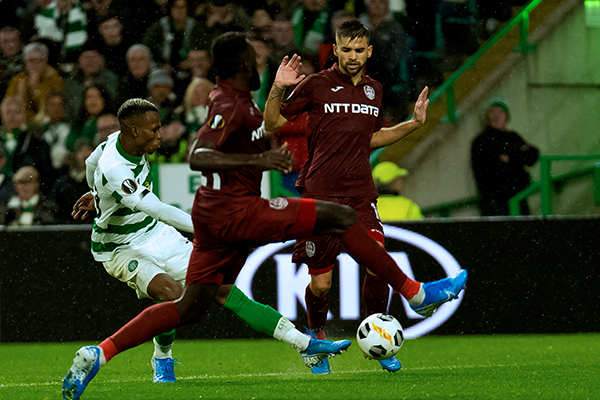 This time the pass that carved open the Cluj backline was down Celtic's left. The bombing on full back was Bolingoli and it was a chip to the head of the striker this time, and big game hunter extraordinaire Odsonne Edouard headed it home to finish off a move that cried out for that final execution, just so the pass is never forgotten and we get to see it replayed many times over the years. A goal of absolute beauty. The Maestro himself would have nodded in quiet approval.
There was enough time for Cluj to have a goal chalked off for offside. Nice. There was also time for Rondon to see yellow for an outrageous attempt at winning a penalty that thankfully the referee saw right through and brought out a yellow card for simulation. Nice again.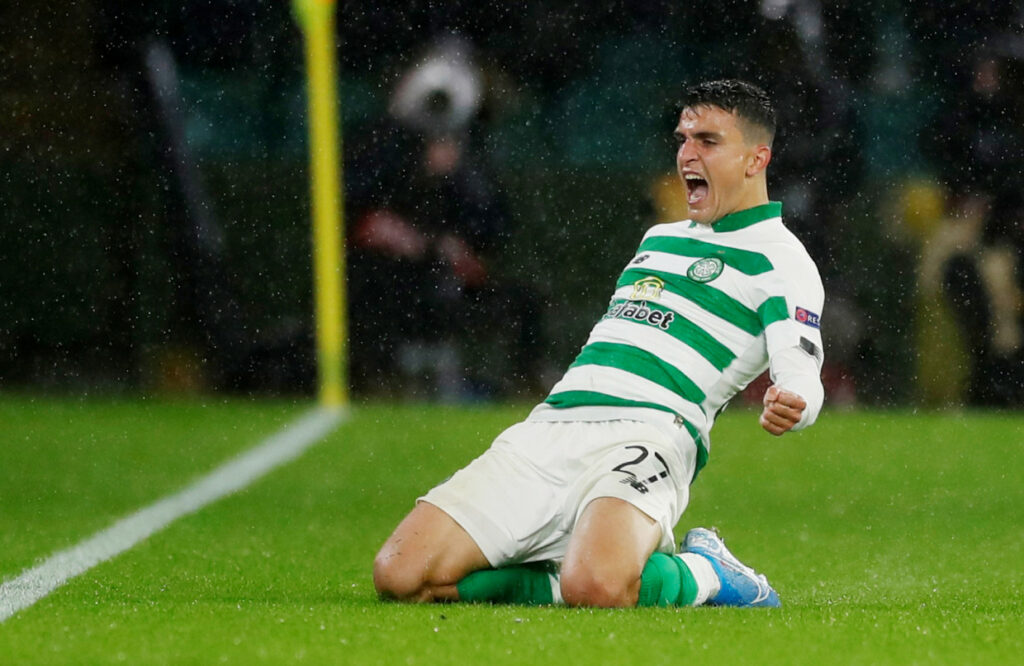 The second half was for Mohamed Elyounoussi to show his worth. I wrote in a previous article after the Rennes game that this lad has an abundance of talent. The issue we may have is we'll need to give him licence to roam to really see just how effective he can be. He looks the sort of player who can feel constrained by being told to play too rigidly in a formation. When he's allowed freedom he could be a big weapon for us this season, particularly in Europe.
The Norwegian's goal and Celtic's second started with Elyounoussi winning the ball from a Cluj attack around 30 yards from our own goal. His break forward from winning it defensively was wonderful, the placement of the pass wide, incorporating a nice wee step over to a galloping James Forrest was sublime and despite the energy used as he galloped forward he still had some left in reserve to scream repeatedly for Forrest to return the favour and feed him at the edge of the Cluj box.
He got the slice of luck his build up play and industry deserved when his left foot shot was deflected into the keepers bottom left corner. The player also looked like he enjoyed every second of it as he raced away in celebration. This lad will do for me.
Fraser Forster who only had one real stop to make first half turned away a fine shot that looked goal bound with a fingertip save. The big fella continues to show what a wise decision it was to get in another goalkeeper. I have to admit I had huge doubts it was a position we needed covering in the transfer window with Gordon and Bain fighting it out, but there is something ever so reassuring have 'The Wall' especially in the big games. That save was really important and Forster looks like he's enjoying being back home.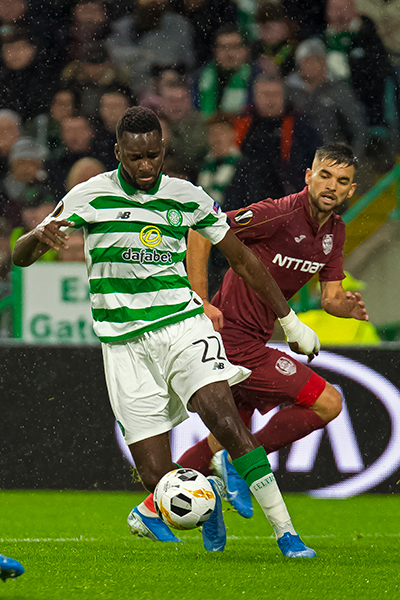 French Eddy had a brilliant chance at the end but put the ball over the bar. 3-0 would probably have reflected Celtic's dominance far better but we'll more than settle for a 2-0 win especially one as dominant as this was.
There wasn't a player who didn't perform to at least 8 out of 10 last night. Elhamed, Bolingoli, Jullien and Ajer were an amazing cohesive defensive unit. Scott Brown put to bed his own personal Cluj nightmare from the last encounter with a Captains performance that turned back the clock.
Callum McGregor married superbly with his captain and got forward well to support the advanced midfielders. Mohamed Elyounoussi had a fine second half in particular topped off with a great goal. Edouard scored and could have had more, and Forrest was a constant menace to the Cluj defence.
One who does deserve a special mention is Ryan Christie and this isn't just for last night alone. All season Ryan Christie has been a consistent performer. His energy levels from first whistle to last are stunning. His direct opponents must spend time praying his batteries will run out at some stage of the game but they never do. For anyone who ever wonders what if with John McGinn now tearing it up in the English Premier League, look no further than Ryan Christie.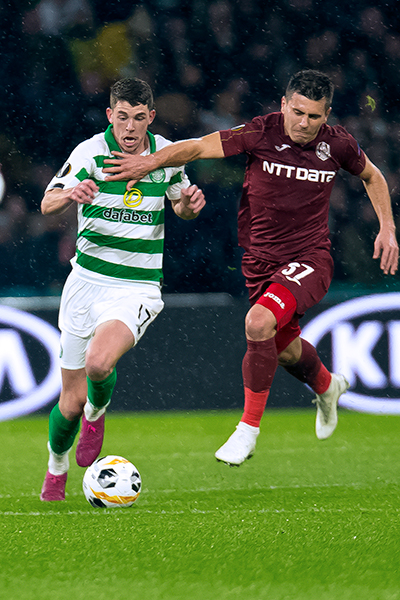 We need to remember that in all likelihood we'd have Ryan Christie or John McGinn not both. No contest for me. I'd want Christie every day of the week.
A last word on our manager. He himself exorcised a few ghosts last night. In some quarters he's been derided as Old School, out of touch and not quite in the same orbit as the visionaries of the new football order's Enlightenment period. That may well be, but given the choice I'd rather watch the football Celtic are playing under Lenny right now than anything I've seen served up anywhere else this season. I'm glad for him above anyone else today.
And for those who do remember that Paul McStay pass here's another 80's reference for you to end with.
"Revenge is never stupid, Darlin. It's the single most satisfying feeling in the World". J.R Ewing.
Amen.
Niall J