Scottish Cup Final, 21 April 1956 Hampden Park – Hearts 3 Celtic 1
The 1950s and early 1960s are rich in horror stories. This was one of them. Celtic had won the Scottish Cup 17 times and it was our third successive Scottish Cup final (we had beaten Aberdeen in 1954 and lost to Clyde in 1955).
Hearts on the other hand had not appeared in a Scottish Cup final since 1907, an astonishing statistic even though there had been two world wars in between 1907 and 1956. But they had won the Scottish League Cup in 1954, and, frankly, were developing into a really good side.
Celtic could be a good side too, but were bedevilled by inconsistency. They also suffered from injuries to two of their best players, Jock Stein and Bobby Collins.
That did not, however, excuse the crazy team selection. Good reserve forwards in Jimmy Walsh and Jim Sharkey were available, but Mr Kelly opted to play Mike Haughney, a competent right back, at inside right! This was bad enough, but on the right wing was Billy Craig a youngster playing his fourth game for the club, and in neither of the previous three games had he impressed.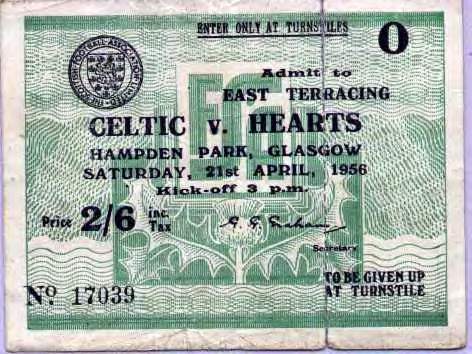 The crowd was 133,583.
The day was bright, a bit windy perhaps, but really a good day for a game of football, and it has to be said from the start that Hearts were the better team and were well worth their 3-1 win, scoring before half time through Alfie Conn, immediately after half-time through Ian Crawford and then after Haughney pulled one back after what might have been a foul on the goalkeeper, to give Celtic a lifeline, Crawford scored again in the 80th minute.
So congratulations to Hearts, but what went wrong with Celtic that day?
There were several legitimate excuses in the absence of two star men, the crazy team selection, and the fact that two other key men Bobby Evans and Willie Fernie simply had bad games.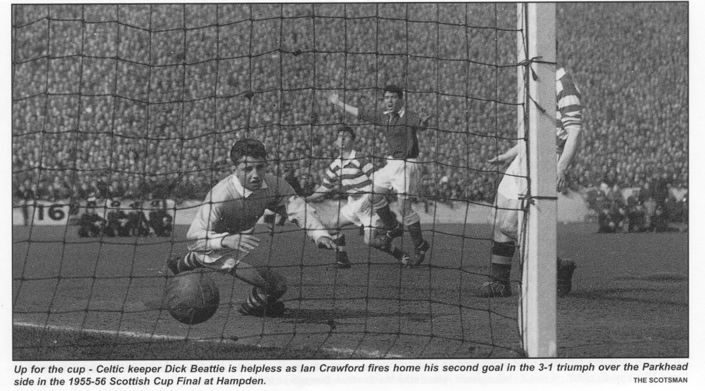 But was there something else going on that day? Goalkeeper Dick Beattie was subsequently jailed for throwing games when with Portsmouth, and that crucial second goal for Hearts looked "wrong" to some supporters. Have a look on You Tube, and see what you think!
And yet it is a monstrous thing to accuse someone of throwing a Cup Final. One would have to be very naïve indeed to say that these sort of things have never happened…but in a Scottish Cup final?
Before a crowd of 130,000 and some very experienced Scottish journalists? And before Newsreel cameras? Surely not! Let's just hold up our hands and say that Hearts were the better team on the day.
Hearts: Duff, Kirk and McKenzie; Mackay, Glidden and Cumming; Young, Conn, Bauld, Wardhaugh and Crawford.
Celtic: Beattie, Meechan and Fallon; Smith, Evans and Peacock; Craig, Haughney, Mochan, Fernie and Tully.
David Potter
The Hearts Parade after the 1956 Scottish Cup win over Celtic…