VICTOR WANYAMA opened the scoring for Celtic on this day on 2012 in a 4-2 win away to Inverness Caley Thistle. The other goals were scored by Tony Watt, who got two and Charlie Mulgrew.
Wanyama is not surplus to requirements at Tottenham and is stalling on a move to Club Brugge, with speculation mounting that the former Celt may very well be heading 'home' to Paradise. More on that in a moment but first let's look at the goals from that game at Inverness.
25th August 2012, ICT 2:4 Celtic.

Wanyama, Watt(2) and Mulgrew. @Tony_Watt7 @charlie_mulgrew pic.twitter.com/lUx5sD3enG

— Li'l Ze (@LilZe85) August 24, 2019
And @paulthetim mentioned a possible return for Wanyama on Twitter last night, this came after Fraser Forster, who selected the Number 67 jersey when he returned to the club on Thursday, revealed that Victor had been in touch with him immediately to say that this was his number!
"I picked it, yeah. But Victor was straight onto me after the game. He's on at me and saying keep my shirt warm for a bit!" Fraser Forster revealed. That tantalised the Celtic support alright. Here's what Paul has been saying on the Wanyama story…"Hope the big man is back next week," and followed that with "He (Wanyama) told me a few months ago he would love to come back and I know Celtic went after him before the Cluj feck up."
Hope the big man is back next week @VictorWanyama pic.twitter.com/yltzSlBe6H

— paul the tim (@paulthetim) August 24, 2019
Certainly the support are desperate to see Victor Wanyama return to the club asap, judging by the replies to Paul's tweet. As Paul said this week so he plays next Sunday!
"If Carlsberg did dreams."
"Unfortunately…after that Cluj feck up..I don't see us getting Victor back. Would love to be proven wrong though Paul."
"Bring him home."
"He wishes to return. We can only hope Celtic act accordingly and bring him back."
"He'd be expensive though unless it was on loan."
"Celtic have the money – doubt they'll change their model though. 28 years old, but would almost guarantee domestic dominance."
"Already off to Club Brugge for €10m" – (Paul replied "Knocked them back according to reports.")
"I'd give my right ball to have him back in the hoops."
"Hope it's happens but can't see Celtic forking 8 million plus for what the papers says the big yin wants Champions League football, something Lawwell made sure we didn't have."
"Wanyama, McGregor, Christie."
"Brown's replacement – 28? What a signing that would be."
"Surely Celtic fans dini really think Wanyama is coming back up here?"
— Neil Pringle (@aidanavasdad) August 24, 2019
sign wanyama now! pay the money, get him in, 10 in a row delivered. it's not rocket science celtic, buy players that are proven, not projects.

— peter macdonald (@petermacdonald5) August 25, 2019
Meanwhile a while back Scotty Alcroft did an interview with Victor Wanyama about his time at Celtic and given the speculation that a return to Paradise could be on the cards, we thought we'd re-post it today. It gives a great insight into what Celtic means to Victor Wanyama…
When did you first hear about Celtic's interest in you?
It was in August 2010 I heard about the interest but it didn't happen until summer of 2011.
What can you remember about the day you signed?
I remember the day I signed there was a friendly match against Partick Thistle and I went to the game after I signed. It was a friendly match but the atmosphere was electric and I was sitting next to the bench. I was really impressed with the support I saw from the fans.
Whose idea was it to pick the number 67 jersey as your squad number?
It was my idea because I used to support Celtic back when I was in Kenya and I new a bit of the history of Celtic, the Lisbon Lions won The European Cup in 67. In Kenya they have a huge following in the Kibera slum in Nairobi so I read about the history. It was my dream one day to play in Champions League and win it so I wanted to take the jersey 67 to keep reminding me of my goals and I loved the pressure that came with the shirt.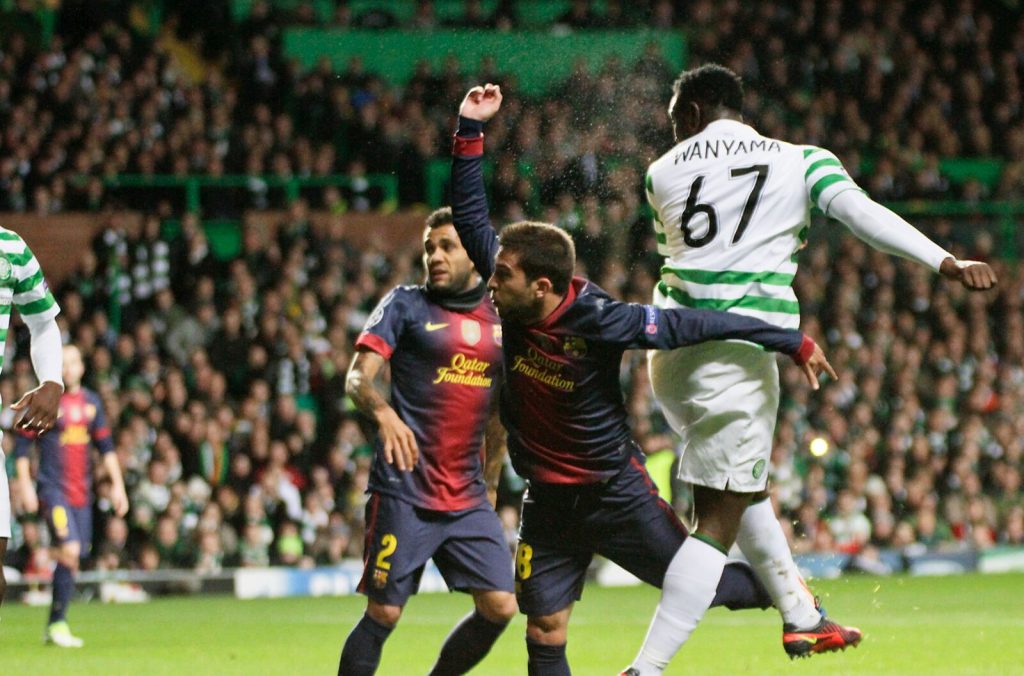 Who were the big Characters in the dressing room…any funny stories?
During my time there were big characters in the dressing room. Daniel Majstorovic, Scott Brown, Paddy McCourt Charlie Mulgrew and Glen Loovens.
Big Dan used to take care of me, a nice guy off the pitch, on the field he was an animal! Broony was also a tough guy, in the winter we used to dress heavily in training but he was wearing his summer gear.
Funny characters were Charlie Mulgrew and Paddy McCourt. They used to tell banters and wind up Emilio. They waited for Emilio to change and then they would take his clothes, take out the important stuff and chuck the clothes in the swimming pool with his shoes or sometimes, or hang them up on the roof. It was really funny seeing Emilio going home with training kit and flip flops.
What were your top 3 goals for Celtic?
My top 3 goals?
Number 3 was against St Mirren away. Charlie had a ball on the left and he passed it across outside the box about 25 yards and I curled it into the top corner.
Number 2 was against Hearts at Celtic Park and it was a very tight game. I received the ball about 20 yards out and I shot into the top corner. It ended up as a winning goal.
And number 1 was against Barca!! We used to train set piece at training ground and we had a specialist with Charlie. He took a corner and found me at the back post and I headed it into the net. That's my number 1 goal!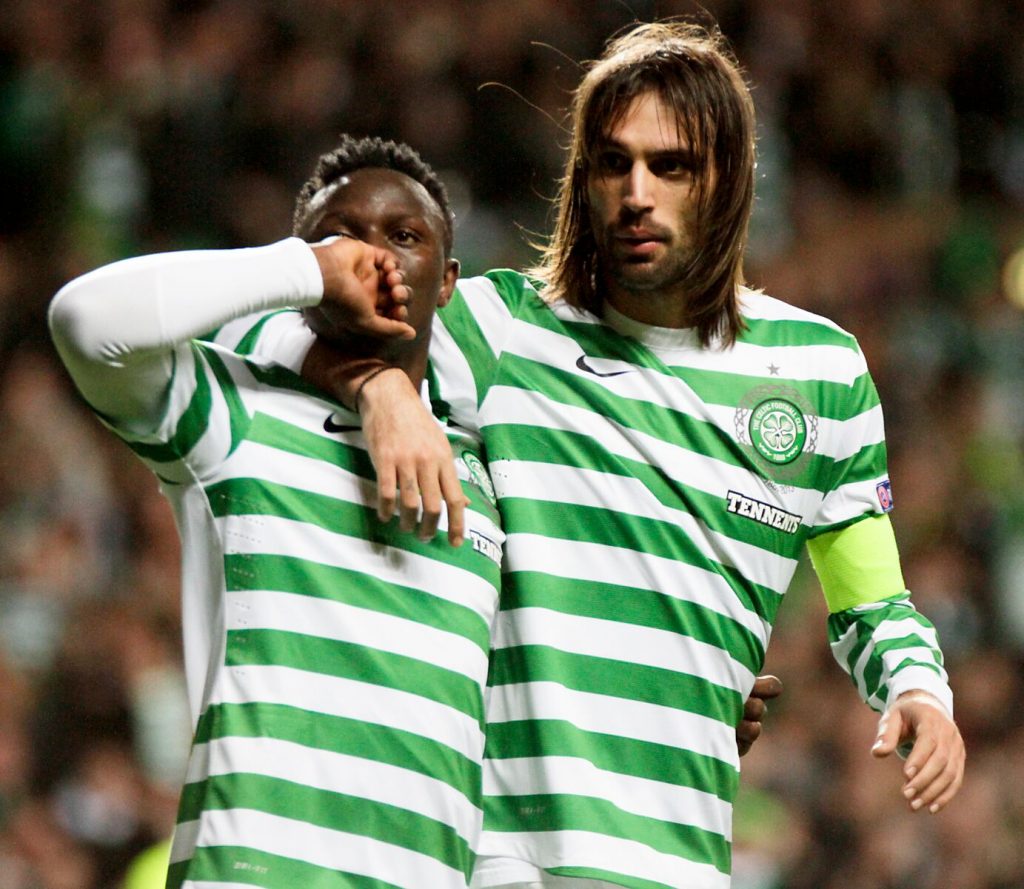 Who was your biggest influence at Celtic at your time with the club?
My biggest influence was the gaffer Neil Lennon he drove me on to have more hunger and desire and to never give up!!
The 2-1 game against Barcelona. Is that still the biggest and best game you've played in? How did it feel to score in that game?
Yes, that was the biggest and best game against one of the top teams in the world and we played very well as a unit. After I scored in the game I ran towards the fans but when I looked up I thought the stadium was coming down because the movement of the fans celebrating actually scared me! That was the best feeling ever!!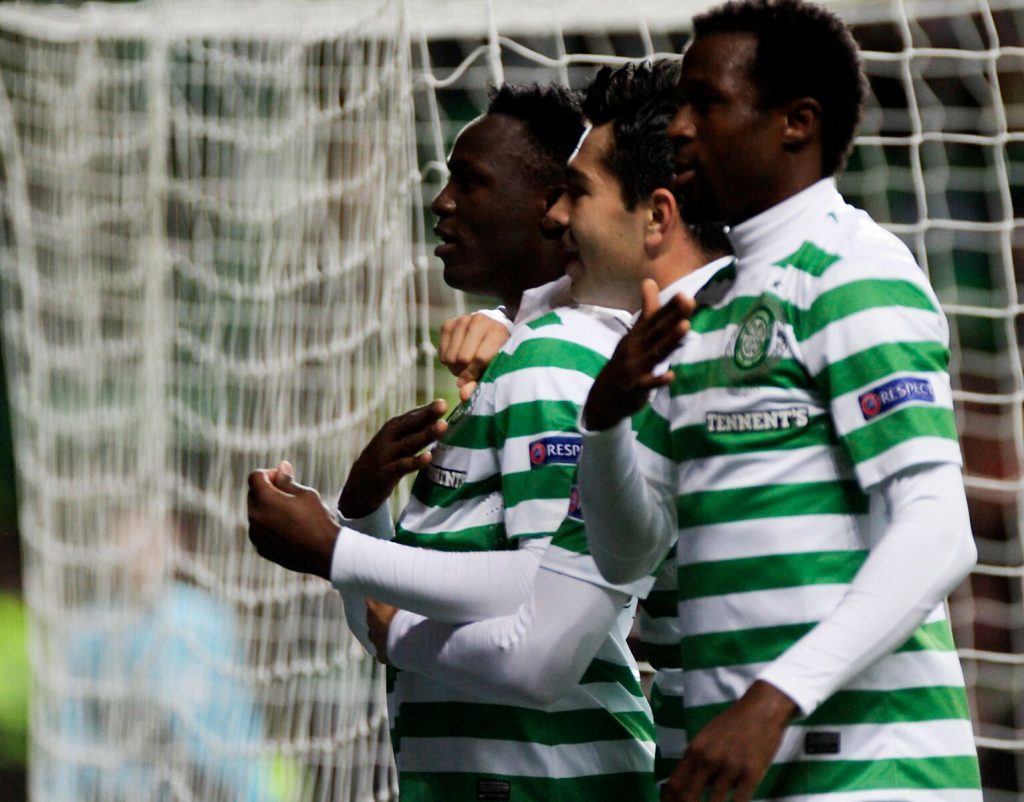 Do you get asked about the atmosphere at Celtic Park by your team-mates at Tottenham? What do you tell them about our fans?
Yes they ask me about the atmosphere and I always tell them is the best ever and that they will never understand it until they witness it for themselves. It is an unbelievable atmosphere, for me I have never seen anything like it!
Do you think you'll ever return to play for Celtic one day, given the love the Celtic supporters have for you?
Yes!! Why not? I've still got a lot of love for the club and I still follow the club, so who knows I might be back at the club in the future.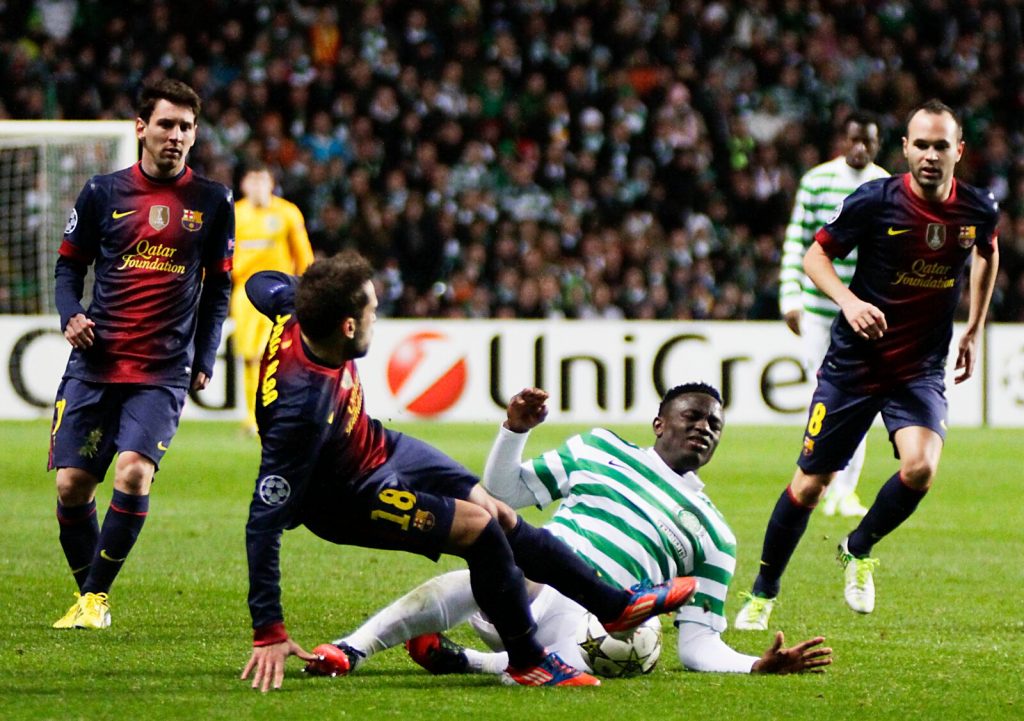 Do you still watch Celtic? What do you think of the job Brendan Rodgers is doing and how do you rate the current Celtic side?
Yeah I watch a lot of games when I have a chance especially the Glasgow derbies. Brendan Rodgers has done well. Going unbeaten was a very big statement he has taken them to the next level.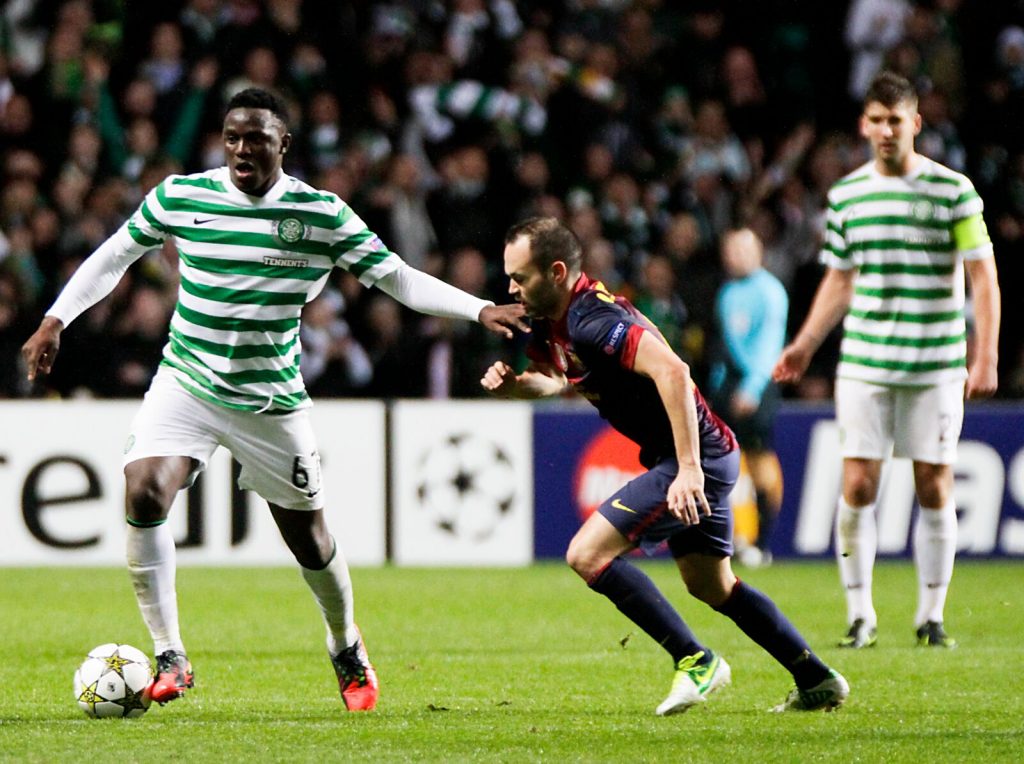 From Scott Alcroft's interview with Victor Wanyama.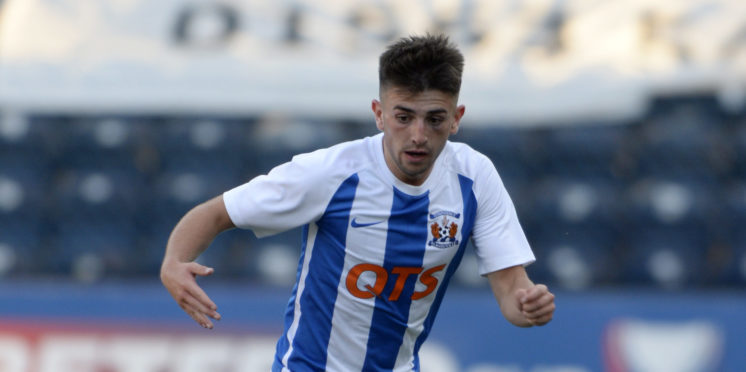 'I can't rest on my laurels,' says hungry Celtic Star, 'I'm absolutely a better player now'…see HERE.
Taylor or Meling? Wanyama? 'Greg Taylor to Celtic from Kilmarnock should be done next week,' says sports writer…see HERE.
Dunfermline's Songbook, The Boyd Agenda, Lennon latest dig at Celtic support, 'Racist and Sectarian' Ibrox…see HERE.
Willie Maley v Jimmy McGrory. If you know the history – Celtic at birth, 50 & 100: Part 11 – August 1938…see HERE.
'The Goals at Celtic Park have just become smaller – The Green Giant is Home!'…see HERE.